Terms & Conditions for the WPE competition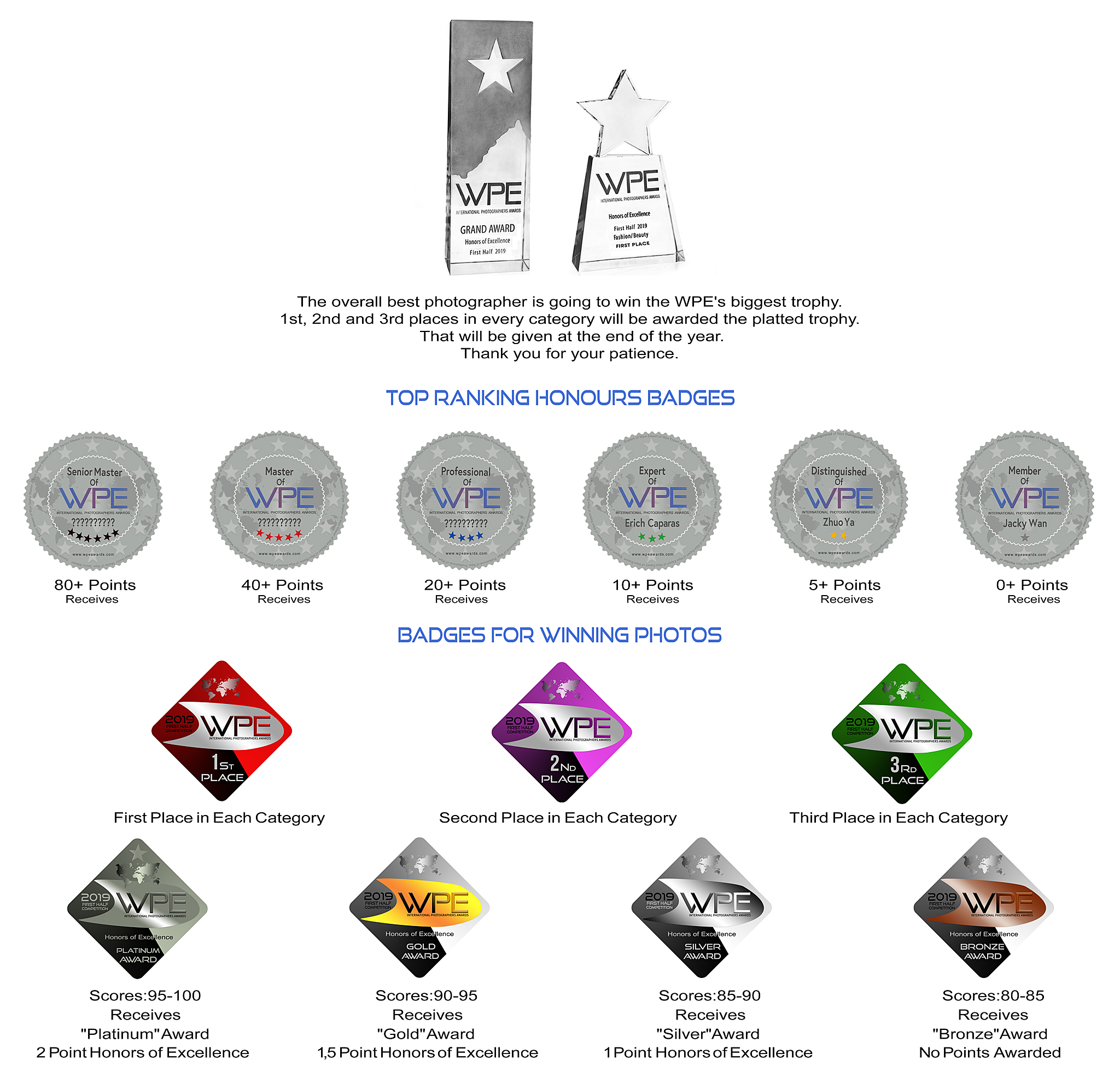 Win an Award, Receive a Badge! You Could Become a Senior Master of WPE AWARDS.
Please read the terms and conditions carefully !
WHO IS ELIGIBLE TO ENTER THE COMPETITION ?
The WPE Competition is open to all professional photographers from all around the world, aged 18 years and older.
The judges can't enter the competition. They can only enter when they don't have judging duty at that year's competition.
The image you upload must be taken within the last 2 years. Otherwise it will be invalid.
COPYRIGHT ON IMAGES :
All entries will be considered the legal property of the authorized account holder at the email address submitted when registering.
You should enter your name and surname correctly. It won't be possible to change your name and email address later.
Please don't sign up more than once with different emails. Otherwise your account will be deactivated per WPE rules.
The Entrant must present in their entirety a unique work emanating from an original image capture.
The various treatments, manipulations, impressions, rendered must have been previously carried out by the entrant himself or under his responsibility.
Entering declares, acknowledges and guarantees that he or she has all his or her legal and moral capacities to participate in the competition and that the image capture to be presented must respect copyright and property rights.
The image capture, which will be presented during the competition, must not promote discrimination based on race, sex, religion, nationality, sexual orientation or age.
All images presented by the photographer are protected by copyright that belongs exclusively to him or her, an images taken in violation of the legislative and legal framework in force will be disqualified and then deleted by WPE after investigation.
By entering the Contest, Photographers accept that all image(s) sent for the competition may be reproduced and used to conduct and promote www.wpeawards.com.
If the image capture includes other persons, the candidate must free himself from an authorization to use the image with the persons concerned, and must prove the authorization to use these image captures by means of a handwritten and signed authorization by the persons concerned.
WPE AWARDS assumes no responsibility for any incorrect or incomplete information or technical, hardware or software failure of any kind, for lost network connections, computer transmissions, other problems with regard to the competition. WPE AWARDS declines all responsability
WPE reserves the right to move an entry into another category or have it disqualified to protect the integrity of the competition.
Rules may be changed or modified without notice.
THE JUDGING :
The judging will include a panel of 10 judges. A point system with results from 1 to 100 points will be used.
It will follow this breakdown :
PLATINUM AWARD:95-100 points
GOLD AWARD:90-95 points
SILVER AWARD:85-90 points
BRONZE AWARD:80-85 points
Winners will be announced around 45 days after the deadline on the galleries page of our website.
WPE PRIZES FOR TOP RANKING HONORS :
The program's main objective is to encourage, to educate and to continuously motivate photographers so that they remain committed to their craft.
WPE members are sorted by the excellence points they have received.
Photographers with the same excellence points are sorted alphabetically.
Every contest, points earned by the photographers will be added to their "TOP RANKING HONORS" account.
Point system is limited to 20 points per year.
FIRST PLACE

: A CASH PRIZES € 2000 is awarded to the highest ranked photographer with the maximum number of points. Points received at previous competitions will not be considered for these prizes. In case of equality, the number of badges won by the photographer will be checked and it will be given to the photographer with the highest number of badges.(ie the number of Platinum, Gold, Silver or Bronze badges).

SECOND PLACE

: will be awarded with 15 free entries to the next competition.

THIRD PLACE

: will be awarded with 10 free entries to the next competition.
The overall best photographer is going to win the WPE's biggest trophy.
1st, 2nd and 3rd places in every category will be awarded the platted trophy. That will be given at the end of the year.
Thank you for your patience.
DEADLINES :
Opening Date: October 10th, 2019
First Deadline: October 30th, 2019
Final Deadline: November 15th, 2019
COST FOR ENTRIES :
1 Yearly Subscription fee of € 12 with the option of uploading 1 free image.
1 Yearly Subscription fee of € 60 with the option of uploading 6 free images.
1 Yearly Subscription fee of € 90 with the option of uploading 12 free images.
From opening date till the first deadline €12 per Image.
From the first deadline till the final deadline €15 per Image.
You can use all your credits in the First Half Competition, or alternatively, it is possible to use your remaining credits in the Secon Half Competition as well.
All payments should be made via Visa, Mastercard and PayPal in the Euro € currency.
HOW TO ENTER :
Login or register as a new account member in order to purchase your entries and renew or add to an existing WPE AWARDS membership.
Once you register, a confirmation e-mail will be sent to you. If you don't receive it please try to check your spam or junk folders.
Your credits will be displayed in your cart.Once the registration process is completed, just follow the online instructions to upload your photographs from your computer.
There is no minimum or limit to the total number of entries per participant.
FORMAT GUIDELINES :
RGB
JPG format
300 dpi
Must be equal to 2048px (longer side)
No watermarks
No copyright remarks or logos on images
Images without borders


Photos that do not comply with the rules of the competition will be deleted.

You may enter any number of entries in any of the following categories :
*WPE reserves the right to move any entry from one category to another or have it disqualified in order to protect the integrity of this competition*

LIST OF ALL CATEGORIES :

WEDDING CATEGORY :

Bride Alone Wedding Day
Groom Alone Wedding Day
Wedding Couple Together Wedding day
Wedding Details (Real wedding accessories)
Bridal Party (Family and Friends)
Wedding Photojournalism (Composite images are not allowed)
Creative Wedding (Composite images are authorized in this category. Models are permitted in this category)
Pre Wedding Bride Alone (Models are permitted in this category)
Pre Wedding Groom Alone (Models are permitted in this category)
Pre Wedding Couple Together (Models are permitted in this category)

PORTRAIT CATEGORY :

Fashion/Beauty (Models are permitted in this category)
Portrait Composite (Models are permitted in this category)
Individuel (Models are permitted in this category)
Children
Newborn/Maternity/Families (Celebrating pregnancy and Up to 1 year)
Fine Art Nude (Non pornographic, Body painting and artistic portraits of nude and semi-nude subjects)
Street Photography
Landscape (Flowers, Landscape, Seasons, Sky, Trees, Cityscapes, Bridges, Buildings, Historic, Industrial, etc...)
Photomanipulation
Animals/Pets/Insects
Food
Aerial/Drone
Product
Sports

For further information or should you have any additional questions please email by filling the form here.
We may also follow us on : Facebook Group Wedding Europe and Instagram WpeAwards.

WE WISH YOU ALL GOOD LUCK!

PROFESSIONAL PHOTOGRAPHERS EUROPE COMMUNITY